LOS ANGELES - Kim Delaney had to read some history to get ready for her new roll in the series "Tour of Duty," which is set in a war she is too young to remember.
Delaney joined the series as it returned to the air this month for its second season, this time with more emphasis on women in the war. She plays Alex Devlin, a combat correspondent for a wire service called American News International.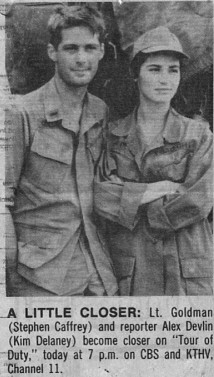 "I had no real awareness of the war" Delaney saysThe show wass set in 1968 and I was only 7 years old. I didn'tt have much time to study before I got the job. But I've spent a lot of time since then reading and looking at documentaries trying to get a feeling of the passion people felt then. It's particularly hard to find something written by a woman."

"Tour of Duty focused on an Army platoon assigned to duty in the late 1960s. This season, the time frame moves ahead slightly to 1968 and the platoon is reassigned to Tan Son Air Force Base in Saigon.

Besides Delaney, BetsyBrantley and Dan Gauthierhave also joined the cast. Brantley plays acivilian psychologist working for the government and Gauthier is a young helicopter pilot.The shows returning stars are Terence Knox,Stephen Caffrey, Tony Becker, Ramon Franco and Miguel A. Nunez, Jr.

The changes in "Tour of Duty," heretofore an all-male show that revolved around combat situations, undoubtedly reflect the success of a China Beach; That show, set at a hospital and rest and recreation area, puts its emphasis on the women in Vietnam. Delaney says she is sometimes confused with Delaney,who stars as a nurse in "China Beach."

"My character has an office in Saigon but she spends a lot of time in the field," she says. "Its a good role because I'm not with just one person. I'm involved with all the people. She is innocent when she arrives. She hasn't been corrupted by the world. She wants to get to the truth of each story, whatever it is, at any cost."

Alex Devlin also develops a love interest with Lt. Myron Goldrnan, the platoon leader played by Stephen Caffrey. She's also attracted to LT. Johnny McKay, the helicopter pilot played by Gauthier. Her role as a correspondent requires her to take frequent trips to combat zones in a helicopter.

Delaney made her professional debut in the soap opera "AllMy Children" in New York. She had a recurring role in NBC's"L.A. Law" and earlier tils year was in the NBC miniseries"Something Is Out There."

In the miniseries, she played the girlfriend of Joe Cortee, who is her boyfriend in real life.

"I grew up in Philadelphia and went to all girl's Catholic schools," she says. "I didn' t act in high school because I was very shy. I had four brothers and I probably spent more time at their school than mine. Actually, I didn't know what I wanted to do"

After high school she moved to New York and began a modeling career. "I got an agent and he gave me the name of some acting coaches," she says. "I studied two years. That's when I knew I couldn't imagine doing anything else. My second year of studying I got All My Children

Her character on the soap opera, Jenny Gardener, "took off like a shot," she says. "She was a very sweet ingenue, a victim, sweet ingenue, a victim, a girl from the wrong side of the tracks trying to make good. Delaney stayed with the show for three years.

Her first movie was"That Was Then, This Is Now," which took her to Minnesota.